Kim Finnegan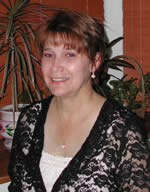 AWAI Member Since: 2004
What's your current occupation?
Software Support and Romance Writer
What's your former occupation?
Software Support
What was the first project you landed?
My first contract came from The Wild Rose Press for a short story with paranormal elements.
What are your current projects?
My current project is a time-travel romance, LIGHTNING ONLY STRIKES TWICE, contracted for The Wild Rose Press. I'm anticipating a 2012 release date. I've also finished four of my five full-length romantic suspense novels that are part of a complete series.
What has been your proudest moment as a writer?
A very proud moment was signing the contract for my first full-length novel. I'm proud that my story is worthy of time and effort to share with readers.
What's your favorite niche to write for?
I love to write high-tech and action-packed romantic suspense, and I dabble a bit in with speculative fiction.
What's your goal for this year?
My goal is to publish my finished full-length manuscripts as a series.
What's your writing routine?
My writing routine is simple. I usually have a couple of evenings set aside after my day job where I can write for 2-3 hours, and then I set aside as much time as I can on Saturdays to write.
Please give us an example of how your life has changed since becoming a writer.
Joining both the national and local Romance Writers of America chapters has really opened up networking opportunities. Finding fellow writers on social networking has boosted my exposure. Romance writers are a phenomenal and supportive group. But all that support has to be tempered with the writing business in general, or the manuscripts never get finished.
What success tip would you like to share with your fellow writers?
Never give up on your dream. Find ways to fit what you want to do most into your busy schedule until you're able to do it full-time. Find resources to support and inform your vision of success.
When did you realize you were living the writer's life?
I realized I was living my dream when I received first place for my manuscript in my local RWA chapter writer's contest for the second year in a row.