Mike Ervin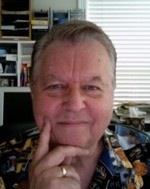 AWAI Member Since: 2006
What's your current occupation?
Owner – M. A. Ervin & Associates
What's your former occupation?
VP of R&D, E. I. DuPont
What are your current projects?
My main focus now is just running my business. I spent two years developing a content-rich informational marketing website on patents for inventors and small-business owners that now acts as a lead-generation tool for my business. It really works – big time.
What's your favorite niche to write for?
Intellectual Property and energy issues
What's your writing routine?
I spend the early morning getting in some exercise and routine chores around the house. Then about 6 hours per day focusing on client needs – which means writing (and rewriting) patents and responding to patent office actions. After two years of active development my website is now large enough and attracts so much traffic that I only occasional add new content to it. But it steadily brings me business in terms of new clients.
Please give us an example of how your life has changed since becoming a copywriter.
My client development in my patent business was for years based on nothing but referrals. Toward the latter half of 2008, I decided (based on what I had learned about writing and information marketing from AWAI) to use an information website to do lead generation. I have been very impressed with the reach I have achieved. My previous website never generated a client in 6 years. This one brings in a steady flow of potential new clients. That alone has justified the work.
But I can see now, as Nick Usborne teaches, that I'm creating an asset that will pay me back for years. My website now generates about 3-4 client inquires per month – much more than I can handle. One of the advantages of a patent business is that when you get a client you have them for years! I now have all the clients I need – and a much better portfolio of clients.
I talked with Bob Bly at the 2007 AWAI Bootcamp, and he advised, "Make yourself a guru in your field." I now see a way to do that.
What success tip would you like to share with your fellow writers?
Work constantly on your writing voice. The thing that really hit me from studying copywriting from AWAI and from Nick's Money-Making Websites program is the importance of connecting with your target client. Most legal (intellectual property) websites are written in a legalistic and numbing style. I try, as Nick recommends, to imagine myself sitting across the table from a small-business owner who is considering getting a patent for the first time, and just explaining to him what to think about in that decision. My first feedback from new readers of my site was, "You just sound like someone I can trust – can you help me?" It works.
When did you realize you were living the copywriter's life?
I began to realize that this informational marketing approach really works when I started to get inquiries from readers. This never happened from my old website.
I read somewhere the other day that the tagline for informational or content marketing is: "Don't pitch, don't sell, and don't interrupt. Educate, inform, and provide value. Your business will grow." I was skeptical at first, but I now believe that. If you're a service provider of any kind, you can use informational marketing to grow your business.