Apryl Parcher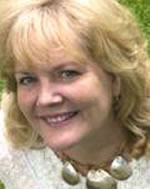 AWAI Member Since: 2004
What's your current occupation?
Content Marketing and Social Media Strategist
What's your former occupation?
Retail business owner (Chesapeake City Gift & Gourmet)
What was the first project you landed?
My first paid project was a tri-fold brochure for a local business back in 2000.
What are your current projects?
My current projects deal with helping businesses formulate content strategies that combine traditional with social media marketing. That means targeting audiences in the right channels and engaging them with lead generating content, as well as planning editorial calendars for clients to use for blogging and social media updates. I also ghost-blog for a limited number of clients, and have just finished co-authoring a band new book entitled: Solving the Social Media Puzzle: 7 Simple Steps to Planning a Social Media Marketing Strategy for Your Business.
What has been your proudest copywriting moment?
That has to be the moment I saw my co-author hold up a newly-printed copy of our book!
What's your favorite niche to write for?
Social Media Marketing
What's your writing routine?
I write my "To Do" list every evening before quitting work for the day. Early morning is usually checking email, looking at my Google Reader account for interesting articles to share, and posting updates. My goal is to have scheduling and posting social updates for my clients done by mid-morning, then making any phone calls I have to make.
My best creative time is early afternoon to evening, so I save my writing and editing projects for that time period. It really works best if I can lock the door, turn off the phone, email and other distractions. If not, I sometimes have to work late into the evening! But it's almost like reading a good book – once you're on a roll, you have a hard time stopping. I'm very deadline motivated, so very often I end up working late because I hate to have things hanging over my head.
In between, I schedule client interviews and listen to webinars on industry topics. One day a week I keep a morning slot open for physical networking to get out of the basement and interact with people.
Please give us an example of how your life has changed since becoming a copywriter.
I love the fact that I have a 10-second commute to my basement office, and I have the flexibility to work around the family schedule.
I've owned and operated several small businesses before, but didn't like the fixed schedule and other limitations (not to mention having to work every holiday). I feel much less restrained and free to create now. Also, my husband, who is a graphic designer, joined the business full-time. We work together to create social profiles and content for clients, and he's also my in-house editor for all my writing projects. It's a great partnership!
What success tip would you like to share with your fellow writers?
The best tip I can give is to have a written plan for your day, week, month and year, and schedule your writing time in your calendar every day. You can get much more done if you prioritize your work, schedule no more than 4-5 MUST DOs each day, and don't beat yourself up too much if you don't get all of them all done.
Also, make sure your clients can find you on social channels as well as your website. In this day and age, it's really essential to be active on social platforms. Pick one or two where your clients are most likely to spend time, develop a good profile for yourself that ties into your web brand, and use an editorial calendar to keep yourself on track for posting content. Limit your time on social channels, however, so it doesn't become a huge time-drain. Use an egg-timer and set it for 15 minutes, do what you have to do, and log out.
When did you realize you were living the copywriter's life?
Once I developed a niche specialty and was able to charge more for my work, it began to be less of a struggle and much more fun. It took a few years to build up a decent portfolio. However, once that milestone was reached, I felt confident that I was delivering real value to my clients and getting paid to do something I don't just like but LOVE. That was it!