Jeff McGeary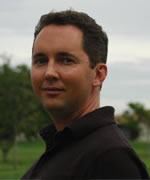 AWAI Member Since: 2003
What's your current occupation?
Copywriter
What's your former occupation?
Business Owner
What was the first project you landed?
A full-time position with Dr. Sears, writing for the health market.
What are your current projects?
I currently write books, articles and sales copy for Dr. Sears. I also have a full-time freelance copywriting career with about a half-dozen regular clients.
What has been your proudest copywriting moment?
My proudest moment, so far, was seeing my first sales promo go out to a list and do well. It was a real milestone for me. After that, I never looked back.
What's your favorite niche to write for?
What's your writing routine?
I try and get an early start. I'll work for 3 to 4 hours on my biggest or most urgent project and then take a break. Then I'll do another stretch in the afternoon, with some time for research and editing.
Please give us an example of how your life has changed since becoming a copywriter.
My outlook on life has changed dramatically. My experience as a copywriter creates new opportunities and new privileges every day. I'm very optimistic about my future.
What success tip would you like to share with your fellow writers?
The best way to find lasting success is to have your copy reviewed on a regular basis. ATS's coaching program is a great example. To write winning copy you need to constantly grow as a writer. And finding a copy mentor is the best way to do it.
And when your coach gives you advice, take it. Many writers refuse to change their approach because they think they "get it." This is a big mistake. Always be flexible enough to change the way you think about writing copy.
When did you realize you were living the copywriter's life?
When I planned a trip overseas and didn't think about how much it would cost.