Malcolm Smith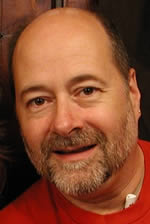 AWAI Member Since: 2004
What's your current occupation?
Copywriter
What's your former occupation?
Customer Relations Manager
What was the first project you landed?
Writing two short letters for a non-profit.
What are your current projects?
Editing a new program for AWAI; working on a new course for Circle of Success; writing a letter for Soundview; and writing a letter for Pinnacle Properties.
I'm currently ghost-writing 3 books (all in alternative health) and working on a couple of promos. I have ongoing article assignments for a couple of clients, totaling 12 or so per month. And I'm getting ready to lead another round of the "Getting & Keeping Clients" program for COS. I do some copy coaching, too … and have a couple of personal book projects in the works.
What has been your proudest copywriting moment?
Landing my first control.
What's your favorite niche to write for?
Information publishing – I still love information publishing, but I've transitioned into alternative health. It's fascinating.
What's your writing routine?
I usually try to work on a project for no more than 2-3 hours at a time. Then I move on to something different for a couple of hours. It helps keep the material fresh for me.
Now that I'm working on more books and health articles, my writing routine involves a lot of reading. I typically do research in the mornings, and then write in the afternoons and evenings. But I keep my schedule pretty flexible for "outside activities."
Please give us an example of how your life has changed since becoming a copywriter.
I travel more. And, just as AWAI promised, I've been able to work from some very nice spots … like at a Disney World resort and in a cabin in the Georgia mountains.
My wife and I love to travel. And now that she's freelancing, too – she's a marketing consultant – we can really get around. We've been to London, Barcelona, Prague … taken a few cruises … and we love visiting Yellowstone. Plus, I volunteer at our local zoo during the week. We wouldn't have the freedom to do this in 9 – 5 jobs.
What success tip would you like to share with your fellow writers?
Never stop learning. Once you've mastered the basics, keep studying. Bootcamps, books, mentors, other AWAI programs … the more you learn, the better you'll get. And that eventually translates into dollars.
Never stop learning … but don't let learning become an excuse for not getting out there and marketing yourself." Marketing yourself is the only way you'll reach your goals.
When did you realize you were living the copywriter's life?
The first time I got one of my own promos in the mail. That was so cool!