Monica Day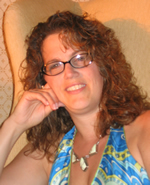 AWAI Member Since: 2002
What's your current occupation?
I have two at the moment. I am a freelance copywriter and marketing consultant, and the founder of a business called The Sensual Life.
What's your former occupation?
Little of everything: Sales, Trainer, Organizational Development, Fundraiser
What was the first project you landed?
Direct-mail series for a mortgage broker – which I got by answering an ad posted on a website. I used my earnings to attend my first AWAI Bootcamp – because I knew then that this was FOR REAL … and I really could do it.
A spec assignment advertised in The Golden Thread for a health package – it mailed, I made $500 (just missed beating the control, so no royalties), plus I got a great sample to show future prospective clients.
18-month contract to write a bi-weekly health e-letter for an Agora franchise – also got this one through a TGT ad. I made $2,000 a month – which really launched my career because it helped with cash flow issues while I looked for other clients, learned more about copywriting, etc. It goes to show you that editorial writing can pay the bills and be a good way "in" while you're working on getting promotional clients.
What are your current projects?
Right now, my copywriting practice is my fulltime gig, and a I run a business I started 5 years ago called The Sensual Life on the side. By Bootcamp 2012, I expect those two endeavors to switch places. Becoming a copywriter 10+ years ago paved the way for me to start a business that is truly my passion, develop the skills to make it go, and have the confidence to take the leap.
What has been your proudest copywriting moment?
I think it was the time Justin Ford (a mentor and copy coach I work with at Sovereign Society) heard one of my draft headlines on a phone call, and rather than offer any comments or criticisms he simply said, "I think we've got ourselves a control!" … and indeed, he was right! It was a package for a currency service called Money Trader, and it did become a control, taking readership from 200 subscribers to 1,000 over the course of 6-8 months. Learning to write financial packages was hard-won for me. I had zero experience going in. I think we value the things we work the hardest for more than the things that come easy to us. I'm always glad I picked the financial road, despite the challenges it has presented all along the way.
What's your favorite niche to write for?
I wrote financial copy for many years and loved it. But lately, I've been writing alternative health for a supplement company and loving it. It keeps me focused on my own personal health goals, and is interesting enough to keep my attention. I've also been enjoying writing for websites and developing collateral materials. Since I am developing another business, I find I have less time and energy for writing controls. My experience writing direct response copy makes me VERY good at web copy and other forms of marketing. But it doesn't take nearly the time or effort of a long form sales letter.
What's your writing routine?
In general, I keep mornings sacred for writing, and stack conference calls, brainstorming sessions, administrative work and/or research for the afternoon. I have found that self-discipline is one of the greatest challenges of working from home. Many people gravitate towards "the writer's life" for the freedom. But eventually, you learn that there is more freedom in having a routine than in going without. The writers that crash and burn within a few years and go back to work can attest to that fact.
Please give us an example of how your life has changed since becoming a copywriter.
I was always someone who felt that anything was possible, and craved a lot of autonomy. And although I am very extroverted at times, I require a lot of solitude so I don't kill anyone. A decade of copywriting – and working from home – has accentuated both of those traits.
What success tip would you like to share with your fellow writers?
Just do it. Isn't that annoying? But it's true. The time you spend in doubt, fear, worry – all those places where we get stuck – just robs you of precious time and energy. Make goals, follow them through, and listen to your gut. If this truly isn't for you, lay it down and find something that is. But you won't know for sure until you take it all the way.
When did you realize you were living the copywriter's life?
When I spent six weeks on an island off the coast of British Columbia with my kids … and still managed to keep my business rolling along.