Vic Elias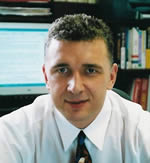 AWAI Member Since: 2002
What's your current occupation?
In-House Copywriter
What's your former occupation?
Public Service Worker
What was the first project you landed?
Freelance assignment for a health book.
What are your current projects?
Our in-house financial products. (I now work as a copywriter for a large financial publishing company.)
What has been your proudest copywriting moment?
It was when I was freelancing, and first realized I can work for myself without ever having to worry where my next paycheck is going to come from.
What's your favorite niche to write for?
What's your writing routine?
I'm a morning person, so I start early and write until noon or early afternoon. Then I read and study other copy to improve myself.
Please give us an example of how your life has changed since becoming a copywriter.
I quit a government job that I had for most of my adult life. I decided I could freelance from anywhere, so I moved from a big city to a peaceful, rural valley where I worked from my home office for a few years.
What success tip would you like to share with your fellow writers?
Keep improving yourself. Be persistent, and you'll succeed eventually.
When did you realize you were living the copywriter's life?
It was a few months after I started promoting myself as a freelancer. I got so much work, I worried how I was going to do it all. And then it hit me: what a great problem to have!