Beth Ann Erickson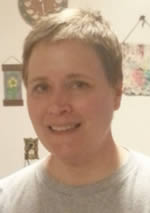 AWAI Member Since: 1999
What's your current occupation?
Freelance Writer
What's your former occupation?
Tailor
What was the first project you landed?
A fundraising letter for the second largest chemical/gambling addiction treatment center in Minnesota.
What are your current projects?
My copywriting career has evolved a lot since '99. Last year I was diagnosed with cancer and I needed to basically take the whole year off to deal with that new, and terribly interesting development.
As I started feeling better, I was able to take on some local assignments again. I'd missed my clients.
However, something shifted in me.
As of today, I don't feel the incredible drive to build wealth, I guess that's what happens once you've experienced mortality. Today, I'm all about dreams, and achieving as many of them as I'm able before the next cancer bout takes me out.
So, while I work with a select few copywriting clients, I'm using that income to support my novel writing habit more than ever before. I also lean more towards public relations these days, this allows me to work on longer term projects with my clients rather than a quick letter/ad, then moving on.
I also support other authors by providing free writing/publishing tips via my zine, Writing Etc. My traditional publishing company is another way I help writers find their voice. Both Filbert Publishing and Writing Etc. have been solid contributors to the field since '01 … and AWAI definitely helped that particular dream come true.
What has been your proudest copywriting moment?
I love watching persuasion in action. It's fun to see a writer "get it" when I'm explaining a concept pertaining to persuasion.
I still feel wonderful when a client reports strong profits due to a piece I've written. I also write many of my own sales letters … I love the action, the conversation, the debates that each piece triggers.
As always, I've enjoyed watching Filbert Publishing grow and into new markets. It's continually evolving, and I suppose that's a good thing. Either way, it's a fascinating process.
What's your favorite niche to write for?
Info products. Hands down, that's my favorite niche.
What's your writing routine?
My routine changes very little. I write each morning. I market in the afternoon. I read/research in the evenings. Weekends are my catch-up times, although as I get older, I like to play on weekends … biking, hiking, walking, exploring. I guess cancer does that to a person.
Please give us an example of how your life has changed since becoming a copywriter.
It's difficult to remember the days prior to my writing copy.
I've been doing this a long time now and I still love my life. Copywriting has given me financial freedom. I also have creative freedom to write what I want. I love developing products, I love working with other writers, I enjoy my clients … pretty much everything about this career is fantastic.
What success tip would you like to share with your fellow writers?
Write. Market consistently and fearlessly. Read voraciously. Never end your education.
When did you realize you were living the copywriter's life?
This hasn't changed in years. The minute I cashed my first copywriting check, I knew I could do this. Traditional freelance writers work hard for very little pay. When I landed my first copywriting client and earned more in one day than I'd previously invoiced in a month, I knew I could enjoy this type of writing.
Copywriting has financially supported all my other writing projects, it's given me the tools to market my novels, grow my publishing biz, and be choosy about the people I work with.
When I was diagnosed with cancer, copywriting paid my medical bills, kept my mind active, and helped me cultivate enough hope to plan a future.
Copywriting rocks. Using words alone, writers can add their voice to the choir of the world. Utilizing copywriting techniques, writers can truly influence that choir. It's an awesome life.