Starr Daubenmire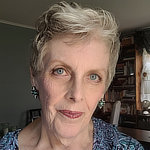 AWAI Member Since: 2006
What's your current occupation?
Copywriter
What's your former occupation?
Quality Control Coordinator
What was the first project you landed?
My first project was writing health e-letters for Don Mahoney. I hadn't done this before, so I studied his archives for examples to learn from.
What are your current projects?
I write mostly in the field of alternative health. I have contacts with several companies that provide me with regular work.
What has been your proudest copywriting moment?
Working on a book project with Michael Masterson. He is a great mentor and the project was the most fun I've had writing.
What's your favorite niche to write for?
Health
What's your writing routine?
What I like best is not having to have a routine! The amount of work I have scheduled is what determines my own schedule. I usually get on the computer first thing when I wake up. I check email and go over the projects I am working on. Anything written the day before gets a once over. It's amazing how easy it is to edit when a few hours or a day has passed. I do that and print it out for another edit later in the current day.
I like to work on something different in the afternoon just to have a fresh perspective, but the process is always the same... research, write, review, edit, print, review, edit...
Please give us an example of how your life has changed since becoming a copywriter.
My life has changed in two very important ways: accountability and flexibility. In the corporate world you are a worker bee tied to someone else's schedule. I can no longer even imagine working that way! Yes, I have to be accountable to the work I take on. But it is entirely up to me how I do it. I can work from home - the bookstore - any location where there's wi-fi. That means if I want to go visit family for a spell, I hook up and work from there. If I want to take a trip - I hook up and work from there. There's always plenty of free time to do what I want to do while "on location." How cool is that??
What success tip would you like to share with your fellow writers?
Don't wait to get started. There's always more you can do to "be ready" – get the website going, have more experience, and on and on. I almost didn't answer the ad that got me my first job because I thought I wasn't "ready." And truthfully, maybe I wasn't! But I took a chance – and got a chance. I worked hard to learn what I needed to do to get and keep that job. It wasn't perfect right off the bat but because I dove in, I had to swim. And things grew from there. So swallow your doubt and get going – there's no perfect time … there's only now!
When did you realize you were living the copywriter's life?
I was living the copywriter's life when I began to really enjoy setting my own schedule. The difference between being confined to a corporate cubicle and deciding when and where you will work is amazing. Eventually I packed up and went to Italy for 3 months. It was just as easy to work from Tuscany as from Ohio. And I had the flexibility to make travel plans as I wished.
For me, the freedom factor just keeps getting better. Now a regular job seems like a "last resort" – one I don't want!!